Sushma Swaraj killed by Militant?
"Kashmiri militants killed former foreign minister Sushma Swaraj" – The viral news spreads over social media.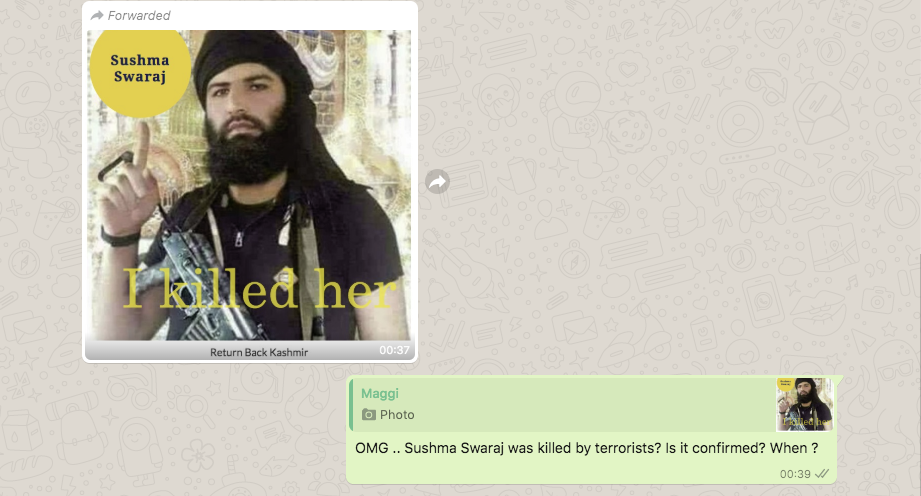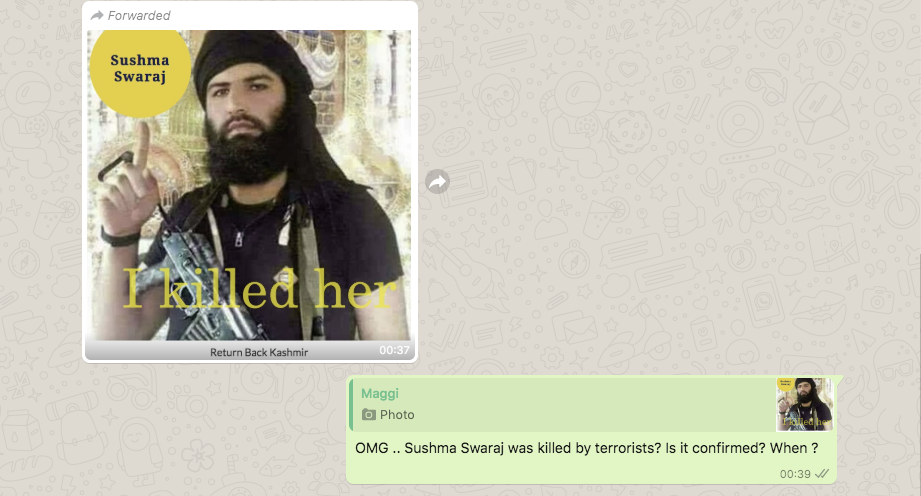 The Story Behind
On Monday, 5th August 2019, the Article 370 and 35-A got scrapped suddenly. Rajya Sabha passed the bill to separate Jammu and Kashmir to 2 union territories through a voice vote. 125 members of the Rajya Sabha were in favour and 61 were against it.
On Tuesday, 6th August, the bill was also passed in lower house, the Lok Sabha, with an overwhelming majority of members.
So, J&K is no longer a special state of India now but divided into 2 union territories Jammu-Kashmir and Ladakh. No special status applies for the state and no separate constitution will be there now. They will be treated equally like others. They can't formulate their own law and regulation like in past. They should follow the constitutional rule that is same for other states and territories in India. While more than 75% of the people welcome this bill and celebrate the historical moment of India but some opposition parties like Congress, DMK, some Kashmiri civilians, militants and people who come under the influence of maoists protest the decision.
The truth
Though the security arrangements were put in place in an an apparent effort to thwart any protests and keep everything calm in most part of the India.  Shockingly, on the same day around 9 pm it was aired Sushma Swaraj, one of the BJP senior leader died.  In the evening at around 7PM, she had tweeted for the last time, expressing her happiness on the 370 article being scrapped. The last tweet of Sushma Swaraj, who was famous for solving people's problems on Twitter, was:
Narendra Modi ji – Thank you Prime Minister. Thank you very much. I was waiting to see this day in my lifetime.
She was referring to the abrogation of Article 370, ending the special status of the state of Jammu and Kashmir. After 2 hours of the tweet she was dead. So people started interlinking her death as a revenge of revoking the Article 370 and 35-A by BJP government. The news became viral. It was said terrorists plotted against and killed her?
I received a message "Sushma was killed by the Kashmiri militant" in one of my Whatsapp Groups. Within 4-5 min I got the same message in another group as well. I felt the news was spreading spontaneously. So, I turned to google to find out the truth myself and I found she was dead indeed but due to a heart attack not some terrorist intervention.
Sushma Swaraj was admitted to AIIMS hospital in Delhi after getting a heart attack. Swaraj, 67, had not been keeping well lately, which is why she did not even contest the Lok Sabha polls months earlier. She also had a kidney transplant few days back.
She died due to Cardiac arrest. May her soul rest in peace!
Conclusion
It is truly surprising how things seem to be interrelated and people make a scene out of it.
Just 2 days back, before the 370 article got scrapped, a lady tweeted "Game of Thrones" character Arya stark's picture Retweeting it as a 'Kashmiri girl who became blind after she was hit by pellet gun' from a parody account which has a disclaimer of  'All Tweets are for fun, 100% fake, imaginary, resemblance to any person dead or alive is purely coincidental,' in its bio. The picture was of star "Maisie Williams" taken from a Season 6 scene of the show (where she becomes blind), the lady fell prey to such fake news misunderstanding her to be a Kashmiri girl gone blind due to the unrest in Kashmir.
So, amidst all these fake news being spread and encouraged, I decided personally to take my step in stopping such fake news from spreading further. And I would request everyone to read every message properly, crosscheck the details from the internet themselves before forwarding it randomly.
Even though the truth remains unknown as of yet but it is confirmed that Sushma Swaraj died due to cardiac arrest on Tuesday evening. My deepest condolences to her family, friends, relatives and the Indian Politics. India will be missing such a great leader and personality.